Bucknell University Digital Scholarship Conference 2017
Looking Forward, Looking Back: The Evolution of Digital Scholarship
October 6th-8th, 2017
WHAT IS #BUDSC17?
#BUDSC17 is committed to expanding the definition of digital scholarship to be more inclusive across diverse communities, both inside and outside of academia. The conference will bring together a broad community of practitioners–faculty, researchers, librarians, artists, educational technologists, students, administrators, and others–engaged in digital scholarship both in research and teaching who share an interest in the evolution of digital scholarship.
The theme "Looking Forward, Looking Back: The Evolution of Digital Scholarship" acknowledges the changes to scholarship wrought by the introduction of digital technologies across the disciplines. Now is an apt time to reflect upon how digital scholarship has evolved over the past decades and where it may head in the future. Scholars and teachers, poets and administrators, artists and community members, are encouraged to reflect on the past of digital scholarship and work together to build a future for digital scholarship.
Early Bird
Registration
$125
opens July 1, ends August 25
Non-BU Student Registration
$80
ends September 22
Keynotes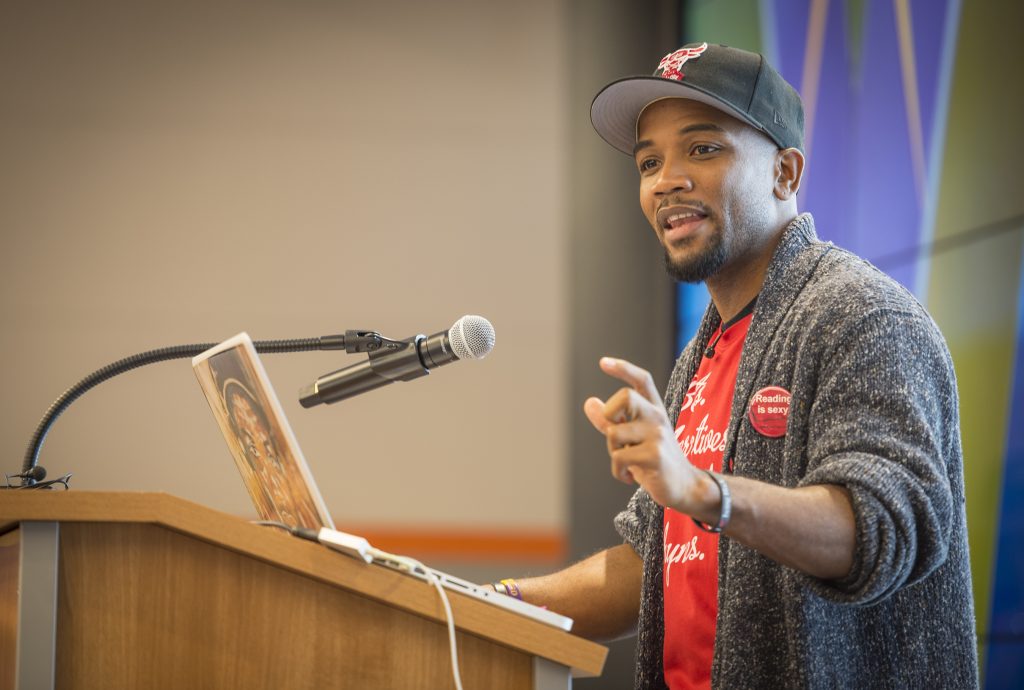 A.D. Carson is a performance artist and educator from Decatur, Illinois. He received his Ph.D. in Rhetorics, Communication, and Information Design at Clemson University doing work that focuses on race, literature, history, and rhetorical performances. Through his See the Stripes campaign, which takes its name from his 2014 poem, Carson has worked with Clemson students, faculty, staff, and community members to raise awareness of historic and entrenched racism at the university. He is an award-winning artist with essays, music, and poetry published at a variety of diverse venues such as The Guardian, Quiddity International Literary Journal and Public-Radio Program, and Journal for Cultural and Religious Theory, among others. His essay "Trimalchio from Chicago: Flashing Lights and the Great Kanye in West Egg" appears in The Cultural Impact of Kanye West (Palgrave Macmillan, 2014), and "Oedipus—Not So Complex: A Blueprint for Literary Education" is published in Jay-Z: Essays on Hip Hop's Philosopher King (McFarland & Co., 2011). He has written a novel, COLD, which hybridizes poetry, rap lyrics, and prose, and The City: [un]poems, thoughts, rhymes & miscellany, a collection of poems, short stories, and essays. Carson is a 2016 recipient of the Martin Luther King, Jr. Award for Excellence in Service at Clemson University. Carson is currently assistant professor in Hip-Hop and the Global South in the McIntire Department of Music at the University of Virginia. Follow him on Twitter/IG @aydeethegreat.