Traveling to Bucknell
People in the Lewisburg area like to say that Bucknell is either centrally-located (within a few hours of Philly, NYC and DC) or centrally-isolated (no way to get here that doesn't involve at least a little bit of driving!) depending on your perspective…. With that in mind, here is some info to help you plot your route to and from Bucknell.

1. For driving directions and information on nearby bus and train stations, airport shuttles and rental cars, please refer to Bucknell University's directions to Bucknell webpage.

2. If you are flying in for the conference, there are four airports in the area. Williamsport is about 30 minutes from Lewisburg but has fewer flights. The Wilkes-Barre/Scranton, Harrisburg and State College airports are one hour away from Lewisburg but have a larger selection of flights. It's worth comparing prices at the different airports as you can often find very good deals by flying in to one airport and out of another one.

3. Here are two companies that provide shuttle service between Bucknell and local airports:

4. Philadelphia, Newark or Baltimore/Washington (BWI) airports might be an option as they may offer less expensive flights (and more direct flights) and are approximately 2.5-3 hours from Bucknell. You'll probably need to rent a car.



Conference Location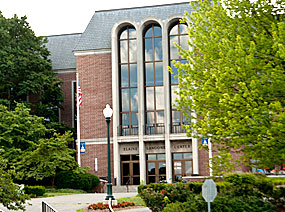 All conference events will take place in the Elaine Langone Center at Bucknell University. From U.S. Highway 15 enter campus at Moore Avenue (brick and concrete Bucknell sign). The Elaine Langone Center (LC) is located on the right side (on a hill) at the intersection of Moore Ave. and Seventh St. Parking is available across the street along Moore Avenue or in visitor spaces adjacent to Moore Ave.

Registration for the conference is located just outside the Terrace Room on the 2nd level.

Campus map with conference location and parking information (.pdf file)